Door Supervisor Vs Security Guard – Know the difference
Can a door supervisor work as a security guard?
This is a quite common question that often comes up in the minds of the public and confuses Door Supervisors with Security Guards and vice-versa. Door Supervisor and Security Guard are two closely related jobs in the security industry, but both serve different authorities and responsibilities. A licenced door supervisor can work as a security guard, whereas a security guard holding the required licence cannot work as a door supervisor.
So, it is important to know the exact difference between the two roles. This helps you to make the right decision while choosing which training course to take and which SIA licence to apply for.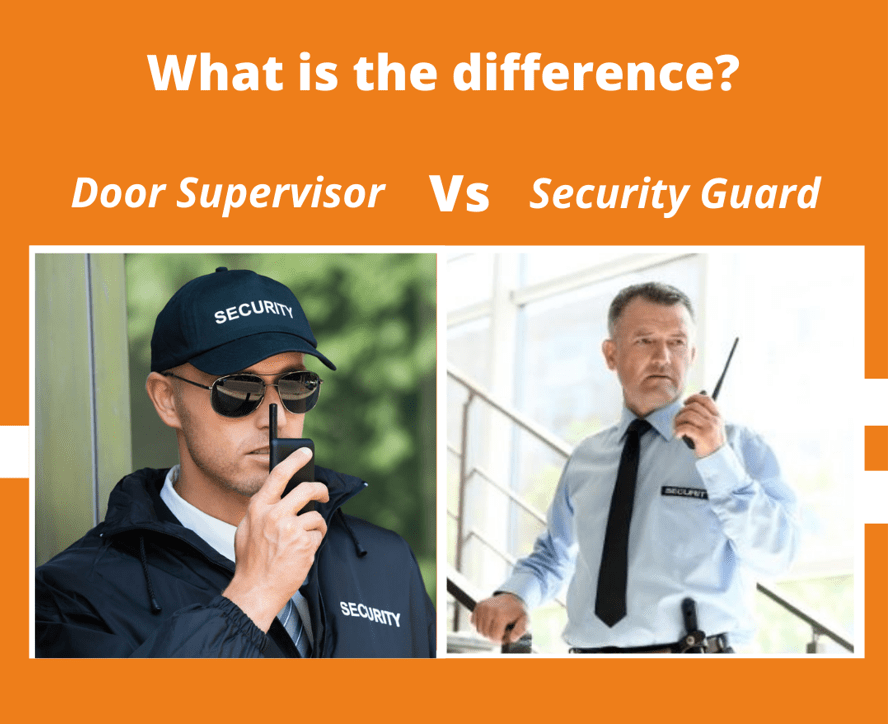 Door Supervisor Vs Security Guard
What are the roles and key responsibility areas of a Door Supervisor?
The door supervisor's job involves guarding a licenced premise. They are responsible for the protection, safety, and screening of the suitability of persons entering the licenced premises. They deal with any kind of conflict in pubs, night clubs and other licenced premises that are open to the public.
Door supervisors are responsible to judge the person's behaviour who is entering the premises and are responsible for making appropriate decisions as to who is allowed to enter and who is deemed unacceptable. They maintain order, manage crowds, dealing with conflicts and emergencies inside the venue, and coordinate with management and police.
Therefore, Door Supervisors are required to have proper training in physical intervention, alcohol licencing, and drug awareness whilst keeping the order in the premises in terms of law and safety of the visitors.
The SIA Door Supervisor Training course is for a duration of 6 days with 8 hours of training each day. The qualification comprises 4 compulsory units:
Unit 1 - Principles of working in private security
Unit 2 - Principles of working as a Door Supervisor
Unit 3 - Application of Conflict Management
Unit 4 - Application of Physical Intervention skills
What are the roles and key responsibility areas of a Security Guard?
Security Guards can work in a variety of non-licensed premises such as buildings, office blocks, retail sites, construction sites, and other non-licensed premises and are responsible for their security.
The role of a security guard could vary depending on the client and industry they work with. However, the basic job role includes providing a physical presence, patrolling, or offering surveillance services to ensure smooth functioning within the premises.
It is also the duty of security guards to observe the surroundings and to report any suspicious behaviour or potential threats to the police as noticed.
The Security Guard Training course is for a duration of 3 days. It takes a total of 26 hours to complete the course and includes a total of three modules. These are:
Unit 1 – Core Learning for Common Security Industry Knowledge
Unit 2 – Security Guarding Specialist Module
Unit 3 – Conflict Management Module
In fact, physical intervention is the only feature within the training modules that sets them apart.
What are the requirements for a Door Supervisor and a Security Guard?
It is not mandatory to have academic qualifications for a door supervisor or a security guard. However, it is required to gain the qualification that provides a complete understanding of the role and to enhance the skills and approach of the individual to work within the private security industry.
After completing the necessary training, you will be authorised to apply for your SIA badge. Without a valid SIA Licence, it is illegal to work in the security industry. Working without an SIA Licence or proper training in the security industry is a criminal offence that could lead to high fines or imprisonment.
Even, hiring unlicenced staff is also against the law, and the employer will be penalised under the law.
Which training course should I choose?
We recommend choosing the Door Supervisor Training course, as this qualification enables you to take on security guard roles as well. This will help you increase your chances of employability, more varied options, and higher-paying protection roles.
Interested to work in the security sector?
SIA door supervisors play an important role for licenced premises across the UK. Whereas for non-licenced premises an SIA-approved security guard will be the role needed.
If you are looking to work in the security industry as a Door Supervisor or Security Guard, you will need to attain an SIA Licence.
For getting an SIA Licence, you will need to complete an SIA Security Course. Once you complete the course, you will be eligible to work as a Security guard or Door Supervisor within the security industry.
To find out more about our SIA Door Supervisor Training Course in Leicester, you can call us on 01162101070, email us or fill in our contact form and we will get back to you.